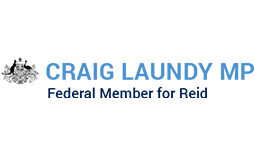 Today I had the great pleasure and privilege with Minister for Social Services Christian Porter to announce $15,000 in federal grants for the Touched by Olivia Foundation. This will be used to help their volunteers and allow them to expand their playspace in Timbrell Park. Touched By Olivia is a cornerstone of our local community that has overseen the development of over a dozen playspaces across Australia – but their flagship playspace is right here in Five Dock.
I had the pleasure of showing Minister Porter around Livvi's Place in Five Dock and allowing him to see firsthand how these unique environments allow children of all ages and all abilities to play side by side.
I look forward to seeing the site continue to grow!
Link to Slideshow of photos on Craig's Facebook Page: /a24a5be7a6076556c8c2f16e5065bd40/CraigLaundyMP/videos/1103900686298032/